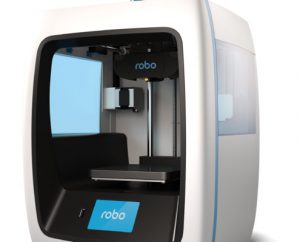 Announcing the new Robo 3d C2 printer, designed in 2016 and released to the public through a kickstarter program. It achieved its funding within three hours of being started due to its compact, stylish design along with its features.
The C2's build volume of 127mm X 127mm X 152mm ( 5in X 5in X 6in) enables you to print a massive range of items.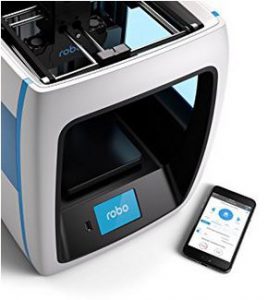 The Robo 3D app, available for Android (coming soon) and Ios, allows you to download models from the internet and print from your mobile device.
With a 12 month warranty and 24/7 technical support, you will have few problems which hold you up for a long time.
With the Robo 3D C2 printers stylish design you will want to put it on display, watching while the printer effortlessly produces your latest creation. With it's compact 304mm X 324mm X 463mm (12in X 12.75in X 18.25in) it will fit almost anywhere. LAN, USB stick and WIFI connection means that you will be able to communicate with your printer from anywhere.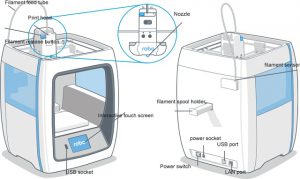 The filament is attached to the rear of the printer to keep it out of the way. The printer features an 89mm (3.5in) touch screen display for ease of control of your printer.
The software has wizards to guide you seamlessly through the stages in getting your printer ready to print.
The automatic bed levelling takes away the problem on previous generations of printers, where you spent valuable time trying to setup your printer for perfect prints.
With it's 12.5 micron X, Y axis accuracy, along with it's 5 micron Z axis accuracy the printer will put the print head where your model wants it every time.
The layer resolution of 0.02mm (20 micron) will give you a high level of detail, while the 0.3mm (300 micron) resolution will finish your prints very fast.
Robo 3d C2 Specs
Print volume:        127mmX127mmX152mm (5inX5inX6in)
printer size:           304mmX324mmX463mm (12inX12.75inX18.25in)
travel speed:        250mm/s
print speed:          16mm/s
layer resolution: 20 to 300 microns
build platform calibration:      automatic
axis accuracy X, Y, Z:       12.5, 12.5, 5 microns
nozzle size:           0.4mm
connection:          usb stick, lan, WIFI
warranty:             12months
support:                 24/7 lifetime.
So is the Robo 3d C2  a printer worth looking at
With its clean lines and modern design looks this printer will stand out from the crowd.
As with all of these types of printer, it will need a little setting up to get the optimum print quality. But once set up the the print speed and quality will be second to none.
The onboard wizards for Z axis offset along with the filament loading and unloading will make setting up this machine a breeze.
With it's lifetime technical support and 12 month warranty this printer offers the confidence that it will last and work for a long time.
Even without it's heated build platform there are over 20 materials that can be successfully printed with this printer, so you won't be short of choices.
So why not treat yourself to one.
Check them out on their facebook page 
If you have any comments on the Robo 3d C2 printer review, leave them in the comments box below.
Thanks for reading
Phil